Cast Circuit Breaker Assemblies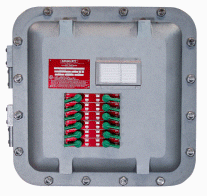 ▪ Copper Buss Bars

▪ UL Standard 1203 Compliant

▪ Voltage 120/240 or 120/208

▪ Breakers 1-36 Circuits

▪ Three Panel Sizes

▪ Single Phase or Three Phase Wiring


The housings are Adalet XCE series, made of copper-free cast aluminum alloy and have precision ground cover and body joints. The breaker panel chassis features bolt-on circuit breakers made by Cutler-Hammer.

Download Circuit Breaker Panelboard Brochure
Our UL panel shop can provide quick turnaround on assembly. Contact us for more details and to discuss available options.
918.665.6888 or email [email protected]