Control Panels
Our team of dedicated electrical technicians has over 200 years of combined experience in the wiring and assembly of a broad range of control panel applications. All panels are assembled to meet NEMA & IEC standards.

From increased safety control panels to motor starters, circuit breaker assemblies, purge systems, PLC and GUI panels and operator consoles we are committed to meeting your technical requirements, schedule and budget.

We have served the electrical industry since 1969, and approach each project, from single panel enclosures to large scale custom electrical panels, with the same dedication to craftsmanship. We will build to your specifications from any cad design or from your functional description.

Whether your application requires a NEMA 4, NEMA4X, NEMA12 or NEMA 7, we provide you with competitive pricing and high quality services to suit your needs. We've collected a few photos from our panel shop here, and some testimonials here.

As a stocking distributor for Adalet enclosures we maintain a broad inventory of controls, junction boxes and fiberglass, sheet metal, stainless steel and cast enclosures. We have the ability to source the enclosure specified for your project from brands such as Appleton, OZ Gedney, Akron and Cooper Crouse-Hinds or provide you with a with comparable equivalent.
The control lines we utilize include Cutler-Hammer, Allen Bradley, IDEC, Weidmuller, IBOCO, Sprecher & Schuh, ABB and other quality brands.

We welcome all inquiries. Call us today for a quotation on your project.

UL Listed Control Panels
We offer high quality UL listed control panels assembled to customer specifications. Turn-key solutions are available or we can provide assembly services to those who wish to supply their own components. Fabricated custom electrical equipment not requiring a UL listing are also available.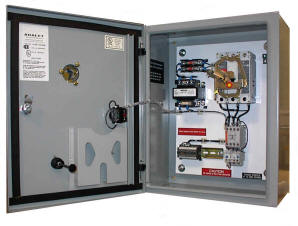 We utilize Cutler-Hammer control for both Low & Medium Voltages. We stock components in several ratings which allows us to turn-around packages in a hurry.
Please select a link below to see more details by product type.
Control Panel Links: