Electrical Enclosures
Since 1969, our team of experts has served the electrical industry, specializing in electrical and fusing equipment for all types of applications and environments including NEMA 4, NEMA 4X and NEMA 7. In our 30,000 square foot facility, centrally located in "the oil country" heartland of Tulsa, Oklahoma, we operate a UL listed & ISO 9001:2000 panel shop and are dedicated to building long-term relationships by providing high quality customer service and products. Quick quote request here.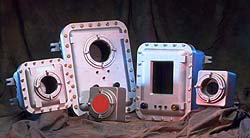 Our expertise in NEMA 7 enclosures and controls is unsurpassed in the industry. We've built a team of professional electrical technicians backed by a sales and support staff with over 250 years of combined experience in the field, and we're confident that we provide both exceptional value and offer the best turn around on drilling, tapping and value added services available.

We supply panels based on customer specifications and meet all NEMA & IEC standards. This includes control systems, purge systems, replacement components, PLC programming, and outsourcing for OEMs who need control panels as a part of their overall system.

As a stocking distributor for Adalet enclosures we maintain a broad inventory of controls, junction boxes and fiberglass, sheet metal, stainless steel and cast enclosures. Read more about Adalet Enclosures.
We have the ability to source the enclosure specified for your project from brands such as Hoffman, Hammond, Eurobex, Appleton, OZ Gedney, Akron and Cooper Crouse-Hinds or provide you with a with comparable equivalent. Read more about our Enclosures.
The control lines we utilize include Cutler-Hammer, Allen Bradley, IDEC, Weidmuller, IBOCO, Sprecher & Schuh, ABB and other quality brands. Read more...
Please select a link below to see more details by product type.

Enclosure Links:
Circuit Breaker Power & Lighting Panelboards