Fuses for Industrial Applications
We have an extensive inventory of UL class fuses and fuse blocks, current limiting motor starting, boric acid transformer and

capacitor fuses in an array of sizes from all major manufacturers including Ferraz-Shawmut, Cutler Hammer, Bussmann, GE, Littelfuse, McGraw Edison, KHT, S&C and ABB.
We offer a number of downloadable data sheets for the fuses we carry. Industrial Fuses Data Sheets
Our services include 24-hour emergency fuse hotline, extensive product knowledge for quick cross-referencing of fuses and same day shipping. Read customer comments...
We focus on providing specialty fuses, products not normally available in traditional channels of distribution. Our experienced applications team with over 45 years of combined experience differentiates us from other suppliers. More about high voltage fuses here...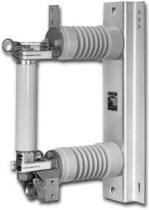 Motor Rated Fuses
In the past motor rated fuses were sized according to amps, today they utilize "R" designations for sizing. The applications data sheet for these fuses is available as a pfd file linked below. Industrial Fuses Applications.

Fuse Links:
High Voltage
Ultra Rapid
Electronic
European
UL Class
Cross Reference

CH Fuses - Home of Genuine Cutler Hammer Fuses
EFuses - Supported by EFEN